Green pool algae solutions in Central Brevard County
If you've come home and discovered your pool resembles a swamp, that's a problem. Beyond being repulsive, green pool algae can very quickly become the home for mosquitoes and harmful bacteria. Adding insult to injury, if left too long, the green pool water can create stains on the plaster of your inground pool. Clients have even found that their pools have become home to fish, frogs, and turtles. If you have a green pool on your hands, contact us to inquire about pool shock, pool algaecide, and more!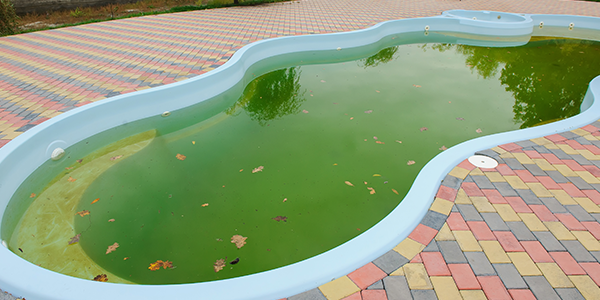 DANGERS OF GREEN POOL WATER
Harmful bacteria growth
Skin infections
Eye infections
Bacterial infections (giardia, cryptosporidium, cholera, etc.)
Physical injuries due to slipping
Green pool stains

Our Green Pool Algae Cleaning Process
At Always Clear Pool Cleaning, our swimming pool cleaners have the experience and technology to remove the green and get your pool clean. If the pool water is slightly green, the problem might be solved with a chemical pool shock. During this process, our pool cleaners will conduct a three-day protocol in which they will apply an aggressive chemical shock solution and thoroughly clean pool filters and all other surfaces. Once the pool water is clear again, we will re-balance your pool chemicals, allowing you to swim safely once again. If the green pool water is very serious, we'll drain all the water from the pool and remove any debris that's been left behind. After that, we'll pressure wash the pool surfaces, clean your pool filters, then refill the pool and properly balance the chemicals.
With more than 26 years of experience, our inground pool cleaners have encountered and resolved plenty of green pools with pool algaecide. For more information about green, cloudy pool water, or to schedule an appointment with our pool cleaning company in Central Brevard County, contact us today to get started. We offer green pool cleaning services in Viera, Cocoa Beach, Port St. John, Merritt Island, Port Canaveral, Rockledge, Satellite Beach, Sharpes, Patrick AFB, and Melbourne.