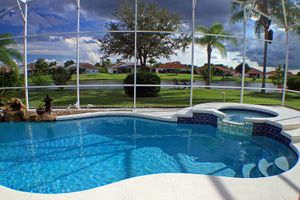 About Our Pool Service Company
Pool owners sometimes feel that they receive substandard service, overlooked pool problems, and pool guys that don't show up, as well as pool service companies that flat out don't respond. The bad news is that pool cleaning companies don't have the best reputation here in Florida and throughout the country. We get that, and we're not one of those companies.
That's why at Always Clear Pool Cleaning, we're on a mission to reclaim the good name of pool cleaners, one inground pool at a time. Our goal is to eliminate the headaches of swimming pool maintenance and let you focus on the fun and relaxation the warm weather affords us here in Central Brevard County. We do that with more than 26 years of pool cleaning experience and exceptional pool maintenance services catered to you. Our team has encountered and resolved virtually every pool problem, including green and black pools, malfunctioning pool equipment, and pool leaks. That experience has earned us membership with the Florida Swimming Pool Association, as well as NSPF certification.
At Always Pool Cleaning, we also believe in providing great customer service and going the extra mile for our clients, and we are proud to offer our pool cleaning services in Viera, Cocoa Beach, Merritt Island, Port Canaveral, Port St. John, Satellite Beach, Rockledge, Patrick AFB, Sharpes, and Melbourne. We'll show up on time for your pool cleaning, listen if you have any questions or concerns, and keep you in the loop regarding all facets of your pool system. By doing so, you can rest assured that season after season, we'll keep your pool blue, clean, and comfortable. If you have any questions for our pool cleaning company, feel free to contact us online or by phone today.